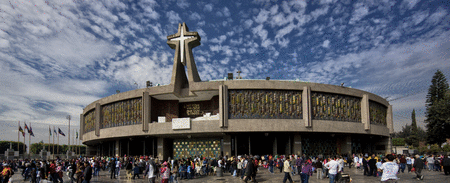 PYRAMIDS / BASILICA
PIRAMIDES / BASILICA
Tour Availlable: Daily

Along the tour, we are going to visit the shrine of Guadalupe, one of the most important Churches in Latín América and the most important of México. And the place where Marie the virgin appeared few times.

After this we are going to continúe to Teotihuacan, one of the most important archeological sites of México which, its most important buildings are the piramid of the sun, moon, and the avenue of death in the mid time we´ll visit also a factory where people from the town produce magnificient pieces of obsidian stone and different kind of rocks.

Where as a Plus they will show us how they get material and beverages from the maguey plant.The tour finished when we come back to the hotel

End of sevices 17:30 hours

All the tours are shared tours,they include. Access to all atractions, certified guide and transportation.

Departure time depends on the hotel you´re staying.

Polanco 8:10 am
Reforma de la diana al angel  8:20 -8:30 am
Zona Rosa 8:45 – 9:00 am
Reforma de insurgentes a Juárez  9:00 – 9:15
Centro Histórico 9:30 am

Tour disponible: Diariamente

Durante este tour nos dirigiremos como primer punto a la Plaza de las Tres culturas, continuando nuestro recorrido hacia la Basílica de Guadalupe, uno de los templos más importantes de América Latina religiosamente hablando siendo el centro más visitado por la religión católica en México, construida donde tuvieron lugar las apariciones de la Virgen de Guadalupe.

Regresando a la unidad para dirigirnos a zona Arqueológica de Teotihuacán donde nuestro guía nos dará un recorrido por esta maravillosa ciudad prehispánica de los puntos más importantes como la Pirámides del Sol, la Luna, la calzada de los Muertos, etc. Además, tiempo libre para el que quiera subir las pirámides tomar fotos y disfrutar de este maravilloso lugar.

Se visitará una cooperativa de artesanos donde se muestra el tallado de la obsidiana y las propiedades del Maguey, donde podrán degustarán un poco de pulque, bebida más antigua alcohólica en México. Tiempo libre para comer recomendado por nuestro guía. Regreso al hotel fin de nuestro servicio.